Atherton's perfect season and Semenuk's Rampage run, on the world's most accomplished DH bike.  2016 has been another banner year for Session, with big wins from two of Trek's most popular athletes.
On her first year aboard Session, Trek Factory Racing's Rachel Atherton earned an unprecedented perfect season of World Cup DH, winning every stop on the World Cup downhill circuit and the World Championships in the same season. In a sport ruled by fractions of seconds, that's an accomplishment that may never be repeated. Read more at redbull.com here.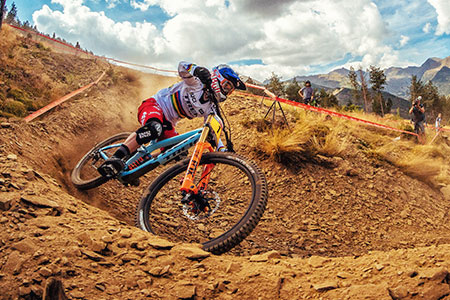 Also in 2016, Brandon Semenuk rode Session to top spot at Red Bull Rampage, the event often regarded as "The Superbowl of Mountain Biking." Back in 2008, Brandon was a 17-year-old prodigy who took the Red Bull Rampage title on a first-generation Session. Since then, Brandon, Rampage, and Session have gotten bigger and better. Need proof? Take a look at his winning line.
As we all know, there's only one Rachel Atherton and one Brandon Semenuk. Though their talents can't be easily replicated, together they've inspired millions around the world to get out and ride. And now, it's easier than ever for anyone to ride Rachel and Brandon's bike of choice!