Jes opened up Gettysburg Schwinn on Buford Avenue in 1991 after graduating from Salisbury University in 1989. He competitively raced mountain and road bikes from 1986 until 1997 with his wife Thora, who he married in 1990. Their daughter Lydia was born in 1997. As the business grew fast and a larger shop was needed, Jes built the current shop in 1999 on Third Street on the opposite side of town. Jes has his Level One Trek Certification in fitting.  In 1996 the first Michaux mountain bike race took place at Big Flat, the Curse of Dark Hollow. Success from that race has led to the expansion of new a three race series; The Michaux Endurance Series. The Terror of Teaberry's debut was in 1999, with Michaux Maximus coming the following year. The shop continues to promote the race series as well as celebrating 25 years of service for the Gettysburg area. Jes rides a Trek Project One Superfly FS 9.9, Trek Fuel EX 9.9 and Trek Project One Domane.
Kent came to the shop in 2005 when he was attending Penn State. After graduating with his Business degree, he came on full time and has focused his time on bicycle fitting. He has obtained his BG FIT Masters Degree and has his Level One Trek Certification. Kent used to race downhill and cross country mountain bikes from 2000-2008. Kent rides a Specialized S-WORKS Demo, Trek Superfly SS, Trek Superfly 9, a Specialized Roubaix Pro and a few classics.
Drew Bobb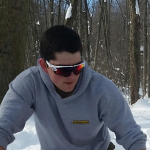 This is Drew's second year at the shop.  Drew just graduated high school from Boiling Springs and is enrolled at Lees-McRae down in North Carolina. He has been racing since 2006 when he was 8 and knows the podium very well. In 2016 Drew won the 30 mile overall in the Volvo Michaux Endurance Series, won ALL 5 of the NICA races and is the PA State Champion. To say the least,  he is extremely knowledgeable and passionate about bikes. Drew rides a Cannondale Scalpel Carbon 2, Specialized Crave SS, Trek Emonda SL 6, Trek Crockett 5 Disc.
What shop would be complete without some awesome shop dogs? Most days when you come trough the door, expect to be greeted by Koda and Rue